SORBENTS & WIPERS
West Coast Spill Supplies carries a wide variety of sorbent products manufactured from Polypropylene.
Our substantial inventory of absorbent pads, rolls, shop pads, wypall wipers, booms, socks and pillows for oil only, universal and hazmat applications is available to our customers 24 hours a day, 7 days a week.
Click on the product links below for more information on the different wyper and sorbent configurations available.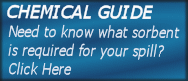 Please contact us for further information and volume discount pricing on any of our sorbent products.