INSHORE CONTAINMENT BOOM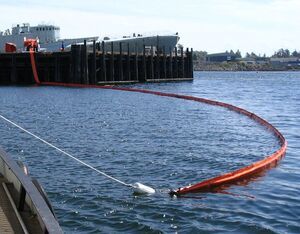 Containment booms play a crucial role in preventing and managing oil spills, ensuring that our waterways remain clean and safe. At West Coast Spill Supplies, we supply InShore containment booms in BC and Alberta and all across Canada. Read on for features and applications.
InShore Boom, or Fence Boom, is an economical fence-type boom deployed as prevention boom in high spill risk operations (e.g. ship refuelling, bunker operations) and as a response boom in sheltered waters.
Lightweight with a flat cross-section, the design allows for compact storage on Boom Storage Reels or in deployment containers. InShore Boom is easy to deploy, handle and recover. InShore Boom is manufactured using RF welding technology.
Features:
Lightweight - has a flat cross-section and is easy to deploy and recover
Uses closed-cell foam for floatation - eliminates potential secondary pollution from loss of foam beads or chips if the boom is damaged
Economical - to purchase and maintain
Manufactured to strict quality control and procedures - with RF welding technology
Available in 50 and 100 foot linkable sections.
Other Containment Boom Types Available:
General Purpose Boom
Application: Prevention / Response - Contract and project work where oil and debris protection is required
River Boom
Application: Response - Rivers and inlets with water current conditions
Permaguard Boom
Application: Permanent - Debris and spill containment in harbour installations and water intakes
Offshore Boom
Application: Response - Spill containment for inshore and offshore conditions
Please contact us for further information and pricing on Containment Boom for your application.