NEUTRALIZERS
Vytac Neutralizers
For the simple & safe neutralization of Acids, Alkalis, Formaldehyde, Mercury & other hazardous chemicals.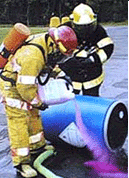 The use of VYTAC spill neutralizing products is very important in the proper treatment and subsequent handling of hazardous material spills and process wastes.
The use of Vytac products at the site of a hazardous material spill:
Simplifies clean up
Minimizes downtime
Enhances spill site safety
Allows neutralized products to be considered non-hazardous
Product Code # KI-ACX-4
Vytac Neutralizers are available in various sizes of powder and liquid configurations depending on the product to be neutralized.
Please contact us for further information on Vytac Neutralizers.