STARPOWER Super Cleaner / Degreaser

West Coast Spill Supplies is your #1 source for spill control and containment products in British Columbia and Alberta. If you're looking for an engine degreaser, surface cleaner, or all-purpose degreaser, look no further than STARPOWER.
Versatile and Powerful Cleaning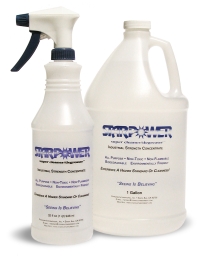 STARPOWER Super Cleaner/Degreaser is a remarkably versatile multiple-use concentrate that redefines the term "all-purpose". Although it is water-based—not solvent-based—and is truly environmentally safe and friendly, it is a powerful cleaner and degreaser. Moreover, it leaves surfaces absolutely clean and free of residue.
Safe for Oil/Water Separators
STARPOWER does not contain any surfactants or emulsifiers. So if your facility uses oil/water separators, this product will not defeat them. Oily substances cleaned with STARPOWER will continue to separate in the unit.
Ideal for Various Cleaning Machines
Additionally, because STARPOWER is non-foaming, it is ideal for use in pressure washers, parts washers, and floor scrubbers. It is USDA-approved for use in food processing facilities.
Effective on a Wide Range of Surfaces
This powerful cleaner/degreaser cleans all types of petroleum products, old oil stains, greasy engines, engine parts (parts washing),autos, trucks, busses, trains, oil storage tanks, oil rigs, machinery, food processing equipment, meat and poultry plants, cooking exhaust hoods, sinks, tile, mildew, carbon black, soot, ink stains, floor wax, greasy floors, and blood. STARPOWER also removes hard water deposits, and even rust stains, paint, and graffiti.
Product Packaging and Availability
Product Code # KI-D312CS for a case of 4 - 1 gallon bottles
Pricing and Additional Information
Click Here for more information.
Please contact us for pricing on STARPOWER Super Cleaner Degreaser.