�

�CRD SOURCE CONTROL REGULATIONS
HELPING YOUR COMPANY MEET CRD REGIONAL
SOURCE CONTROL BYLAW 2922
CRD Regulations for Automotive Repair Operations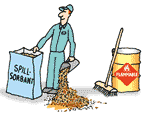 Effective January 1, 2004 all automotive repair and related facilities are required to have the following in place: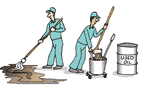 Spill response plan to outline spill clean up and reporting procedures.
Spill response kit on site and easily accessed in the event of a spill.
Secondary containment for all petroleum products stored on site.
Protection of drains from spills.
Noncompliance can result in warning tickets of between $50 and $200 per offence and up to $10,000 for repeat offences.
How We Can Help You Meet CRD Regulations
West Coast Spill Supplies offers a complete solution to help you meet CRD Source Control Bylaws. We offer a variety of spill response kits from small to large depending on the size of your shop.
2, 3 & 4 drum secondary containment for the storage of new and used oil drums. We can also provide you with a custom spill response plan for your operation.
contact us for a free assessment of your spill response needs or for assistance in developing a custom spill response kit.