HAZMAT SPILL RESPONSE TRAILERS
Spill Trailers for Sale or Rent
Fully customized spill response contents for your needs
Trailers available for rent - short or long term
Fully Equipped Trailers for Spills of 7,000 to 10,000 litres or more.
Delivery available anywhere in Western Canada - BC, Alberta and Saskatchewan.
Environmental Spill Response Unit - Check out the Video
Recommended Spill Trailer Inventory / Contents:
Oil, Universal & Hazmat Absorbent Pads, Socks, Pillows
Linkable Booms for Marine Spills
Granular / Loose Absorbents
Personal Protection Equipment (goggles, gloves, coveralls, etc.
Drain Covers & Inserts
Disposal Bags & Drums
Optional Features and Additional items are available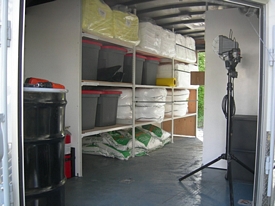 Please contact us for more information on pricing and availability in BC, Calgary, Edmonton, Alberta or Saskatchewan on our Oil Spill Response Trailers.