Pillows & Other
---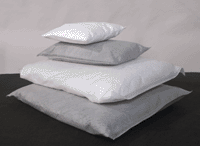 �Absorbent Pillows
Pillows are used to contain leaks and constant drips that are too large for an absorbent pad. Pillows absorb large quantities of spilled fluids, shortening your spill response time. Pillows are ideal for tight spaces under leaky equipment and drums.
Our full line of pillows all have a strong, lint-free spun bond outer layer and contain the highest quality, 100% polypropylene fill available. Oil-only pillows are available in white. Universal pillows are offered in grey. Hazardous material spills should be tackled with our yellow pillows.
Pillows are available in 8" x 18" and 18" x 18" sizes.
| Item # | Product Description | Dimensions | Qty/Case |
| --- | --- | --- | --- |
| KI-O818 | Oil Only Absorbent Pillows | 8" x 18" | 20 |
| KI-O1818 | Oil Only Absorbent Pillows | 18" x 18" | 10 |
Please contact us for further information on absorbent pillows for your application.
Drum Top Pads - KI-DTOP-O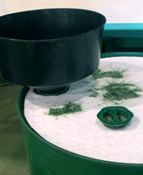 Fine fibre drum top pads are pre-cut to fit a 45-gallon drum with allowance for fill and breather holes. These highly absorbent pads soak up drips from leaking pumps, helping to keep your drum storage area clean. Drum top pads are available in white oil-only and grey universal.
Absorbent Sweep

Sweep is ideal for removing oil sheen during the final clean up of a marine oil spill. Easily deployed and quick to absorb, sweeps are an essential part of a marine spill response operation.
Absorbent sweeps are 100' in length and 19" wide with a nylon strap for maneuvering.
Please contact us for further information on absorbent boom for your application.