Canada's Most Popular Spill Containment Berms and their Applications
September 28th 2022
---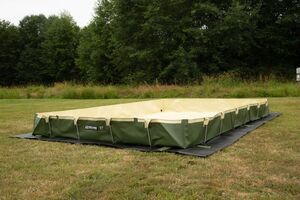 West Coast Spill Supplies provides innovative solutions for cleaning up hazardous materials and meeting regulatory requirements for spill control. We are proud to be the first and foremost supplier and distributor of spill response and control products in British Columbia. We have been proudly providing containment solutions for more than 25 years and at West Coast Spill Supplies, we are dedicated to distributing only the highest quality products and materials.
A containment berm is an effective solution to prevent spills from polluting the soil and water in nearby areas. Depending on the application, they are either deployed after the spill or remain operational as part of a preventative setup. If you are planning on storing or transporting large quantities of chemicals, materials or hazardous fluids, then you should be aware of Spill Prevention, Control and Countermeasure guidelines according to the CEPA.
The Canadian Environmental Protection Act 1999 (CEPA) came into force on March 31, 2000. It covers all pollution prevention measures to contribute to sustainable development.
Are you looking for an effective containment berm? Click Here to Get in Touch
Spill containment berms should always be deployed on a flat surface, free from sharp objects or debris. A leaking container is costly in terms of clean-up, environmental damage and potential fines.
At West Coast Spill Supplies you can find all of the top-rated SEI Spill Containment berms to prevent environmental damage and easily comply with environmental regulations. Here are our most popular spill containment solutions:
The SEI Mini-Berm is an ultra-lightweight solution for spill prevention and clean-up operations. Mini Berms or Duck Ponds, as they are commonly known, can be placed as a secondary containment under Light Towers. They can be used for catching leaks & drips between hose & pipe connections and other places where industrial leaks and spillages are likely to occur. The Mini Berm is comprised of a fabric that is fully certified by Intertek to meet the standard for liners, and it is resistant to fuels, petroleum products and most hazardous chemicals including acids. These lightweight & compact berms fold down easily to a small size for storage in trucks.
They are easy to place, making them ideal for:
• Storing paint cans
• Oil pails
• Small drums
• Chainsaws
• Pumps
• Valves
• Fittings
• Vehicles
• Generators
• Gas cans
• Tow trucks
• Service trucks
SEI's L-Rod Insta-Berm is a great guard against toxic spillages. It is fully collapsible and can be rapidly deployed for effective spill response and containment. The L-Rod Insta Berm is made of industrial-strength fabrics which meet today's guidelines on environmental protection. At West Coast Spill Supplies we can provide L-Rod Insta Berms from SEI for sanitary applications, which can be used for leakage prevention at remote campsites or containing sewage leaks and water waste.
The L-Rod Insta Berm is the most economical way to safely store 45 / 55 gallon drums (205 litre drums) or intermediate bulk containers containing oil, fuel or hazardous chemicals. It is also ideal for fuel trailers, fuel tank storage used for dispensing and remote fuel sites (such as those used by helicopters and remote logging operations). The Insta-Berm portable containment delivers top performance and protection for preventive and emergency spill containment applications.
Visit our site to get in touch today! Click Here
These SEI Berms are specifically designed with collapsible walls that allow heavy vehicles to enter and exit without manual intervention. They are popular if you need to drive in and out regularly. The Drive-In vehicle berm has a tough rugged design which is why it is ideal for use in the toughest environments. The design means that the collapsible entrance and exit walls can easily withstand the heaviest vehicles repeatedly entering and exiting the berm while containing leaking fluids or other hazardous materials.
For larger applications that require superior environmental protection, look no further than the SEI Frame Supported Insta-Berm for durable and reliable secondary containment. At West Coast Spill we can provide a large Frame-Supported Berm which is easy to install, cost-effective and complies with today's environmental guidelines. These berms are ideal for large volume tanks.
Please note that compared to other berm models, this berm style does require some additional assembly using frame support tubing for the wall supports.
West Coast Spill Supplies has distribution centres in Vancouver, Vernon, Victoria, and Seattle, WA. We are proud to ship across Canada and the United States.
Contact us with any questions! Click Here to learn more