Spill Kit Options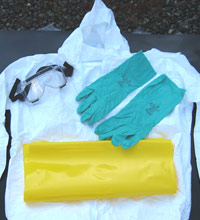 Click here to view list of available standard spill response kits
Be prepared, don't get caught without a spill kit.
Item #
Product Description
Size
KI-XL37D
KI-XB111D
XSORB Outdoor All-Purpose Absorbent
4.5 lb. Bottle
1.5 lb Bag
KI-P-2A
KI-1-PMPA
Plug n' Dike (Leak Repair Putty)
10 oz. Jar
1 lb. Jar
KI-3636
KI-3636-T
Neoprene Drain Covers
36" x 36" x 1/16
36" x 36" x 1/8"
KI-CSHOV
Collapsible Shovel with Plastic Blade
Assembled - 29"
KI-DBAG
HD Yellow Hazmat Disposal Bags
33" x 45" x 6 mil
KI-CAUTAP
Caution Tape - Yellow
1,000' roll
KI-NITGLO
Nitrile Gloves
X-Large
KI-A8141
PVC Gloves, Neoprene Rubber, Green, 14 inch
X-Large
KI-GOGG
Plastic Safety Goggles
fits all
KI-TYVEK
Tyvek Coveralls with Hood
X-Large
KI-TYBOOT
Tyvek Boot Covers
fits all
Contact us for a free assessment of your spill response needs or for assistance in developing a custom spill response kit.