Safety Storage Cabinets
---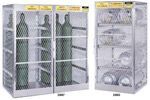 West Coast Spill Supplies carries the complete Justrite line of safety storage cabinets and containers. Justrite also offers a selection of secure cylinder lockers for compressed gas plus drum pumps, faucets and funnels.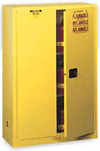 A wide variety of safety cabinets are available in sizes ranging from 4-gallons (15 liters) to 120-gallons (454 liters). Smaller cabinets allow solvents to be stored at worksite locations saving costly trips to a central storage room. Undercounter, wall mount and piggyback style cabinets add to safe storage, even when space is at a premium. For high capacity storage, including storage of 55-gallon drums, larger sized cabinets designed specifically to house 30-gallon (114 liter) or 55-gallon (208 liter) drums are available.

Safety Storage Cabinets serve several critical functions:
Safely contain hazardous chemicals to reduce the risk of fire, protecting both personnel and facilities
Identify, organize, and segregate dangerous liquids
Offer compliance with national regulations and local fire codes
Improve efficiency by allowing solvent to be stored near points of use
Improve security with keyed locking mechanism
Click here to view the unique features of Justrite Safety Cabinets
Please contact us for further information and pricing on Justrite Safety Storage Cabinets.