Mini-Berms
The Mini-Berm is an ultra lightweight and convenient spill tray for clean-up operations and spill containment during fuel and chemical transfer. Flexible Mini-Berm spill containments or Duck Pools / Duck Ponds are easily placed under valves and fittings, trucks, pumps, generators and machinery. Totally reusable and compact, our heavy duty Mini-Berms withstand most liquids.

Standard sizes range from 18" x 18" x 4" to 60" x 72" x 6" with respective capacities of 16 and 506 litres.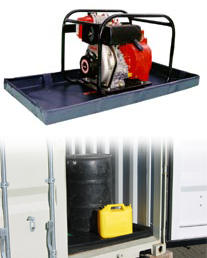 Features
Lightweight and compact for easy storage
Extremely durable
Chemical resistant
Inexpensive
Standard Sizes
- Available in 4" or 6" Side Walls
18" x 18"
24" x 24"
36" x 36"
48" x 48"
48" x 60"
48" x 72"
60" x 60"
60" x 72"
Fabric Options
Chem-Shield: Chemical Resistant (standard fabric)
Arctic-Shield: For temperatures to –50 degrees Fahrenheit
Custom Sizes Available on Request.
Please contact us for a quote on Mini Berms.