Battery Containment / Storage Boxes


Safely store and handle hazardous materials such as old paint cans and used batteries or any other items in these all-purpose outdoor battery bins / totes.
Anywhere that large and multiple batteries are used, storage and handling becomes difficult.

The corrosive properties of battery acid can affect walls, floors, electrical or most things in close proximity. In addition, environmental regulations require secure storage of batteries.
These large yellow Outside Battery Containment Boxes with removable lids are the perfect solution. They are large enough to store multiple units. The design allows for handling with forklifts or lift-trucks, and a snug fitting lid protects from spillage and airborne acid transfer.
Features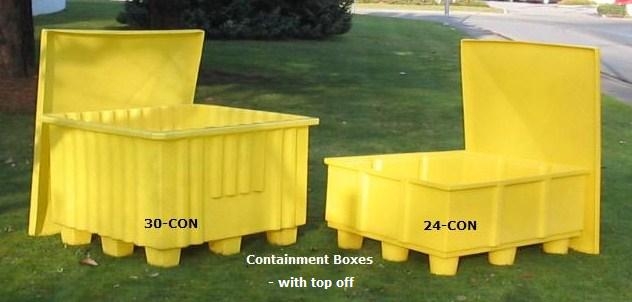 Stackable
Seamless design
Snug-fitting lid
Fourway Forkliftable
Benefits
No leaks or spills
Protects floors and walls
Easy handling with forklift
See More Pictures and Product Information

Item# KI-24BBOX

Item# KI-30BBOX
Outside Dimensions
L X W X H
49" x 42" x 24"
50" x 46" x 30"
Inside Dimensions
L X W X H
46" x 39" x 16"
43" x 39" x 25.5"
Capacity
124 US. Gallons,
16 Cu. Ft.
186 US. Gallons,
24 Cu. Ft.
Support Legs
9 - 5"
9 - 5"
Max. Qty. Per Pallet
4 or 5
3
Recommendation: place a sheet of 3/8" plywood in the bottom of these boxes before using.
Please contact us for further information and pricing on Battery Containment / Storage Boxes.