Battery Storage Container - INACTIVE
---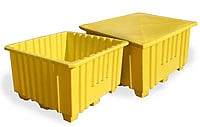 Manufactured from high strength medium density polyethylene, the Large Battery Containment Box is designed to store leaking batteries. Polyethylene is an ideal material as it is unaffected by hydrochloric and sulphuric acids.
Shipping and handling is easy with the light weight and four-way forkliftable box. The Battery Storage Bin comes provided with a snug-fitting lid that keeps rain water out during outdoor storage or shipping.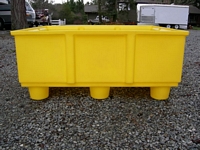 Volume Discounts are available.
Please contact us for further information and pricing on our Battery Containment / Storage Boxes.