Why West Coast Spill Supplies?
24 HR Availability.
West Coast Spill Supplies offers its customers 24 hour availability of absorbent products to ensure that customers can depend on us for spill response products should an emergency spill situation arise outside of working hours.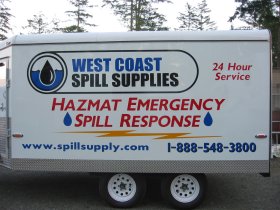 West Coast has sales agents and distributors throughout western British Columbia. We ship all regularly stocked absorbents same-day with reliable BC shipping companies. We also offer volume discounts and are always looking for additional distributors.
Our customers, which include many logging and marine companies can be assured that when a hazardous materials spill does occur, West Coast Spill Supplies can be depended on to deliver quality spill response products on-time.
West Coast Spill Supplies takes pride in knowing that it's over 20 years of spill response experience is invaluable in all situations involving hazardous materials and the occurrence of spills.