Overpacks, Drums & IBC'S
---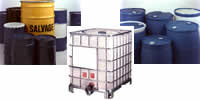 New and reconditioned steel drums are ideal for storing solid and liquid waste. We also have poly drums available for durable outdoor storage or for building your own spill kits. Steel and poly drums are available in both tight-head (TH) and full open-head styles (FOH).
IBC totes are a trouble-free solution for the storage of waste oil and other liquids.
Drum accessories include drum liners, drum lifters and plastic drum covers for rain.
Please contact us for further information and pricing on drums and IBC's.