Oily Waste Filter Deck
---
West Coast Spill Supply's Used Cooking Oil Filter Deck for restaurants with totes and storage drums of used oil/grease.
Our oily waste filter decks are made from heavy duty polyethylene construction (no rust) with removable grating. Units contain multiple rolls of high performance polypropylene oil absorbent to remove oil, grease and other hydrocarbons from stormwater runoff.
Ports are located in the base of units to drain off clean stormwater. One set of replacement oil absorbent filter media rolls are included with each unit.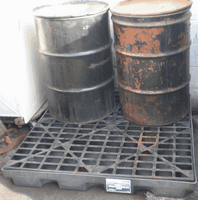 Two Sizes Available
KI-28659-FD
73" x 49" x 5.5" tall
For large bins/totes/containers
KI-28657-FD
49" x 49" x 5.5" tall
For 2 to 3 - 45 gal. drums
Please contact us for further information and pricing on Used Cooking Oil Filter Decks.