Hazmat Tank
---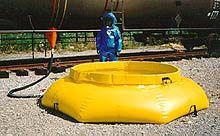 Designed to meet the most rigorous demands of today's safety personnel, the Hazmat Tank is the solution to problems associated with remote spills, namely, inadequate temporary containment. Standard tank sizes range from 2,275 litres to 54.500 litres.
Applications
Mixing tank - for dispersants and remediation solutions
Open top tank for land based temporary storage of skimmed hazardous materials
Settling tank for final skimming operations Ideal for testing small skimmers
Features
Self-supporting no frame or parts to assemble
Highly transportable hazmat storage for use in any terrain
Compact for easy storage
Lightweight
Durable and rugged fabric which is mold and mildew resistant
Unique floatation collar design no inflation required
Low maintenance easy to clean and repair
Hazmat Tank Printable Brochure
Please contact us for further information on sizes and pricing.