Containment Booms vs Absorbent Booms
January 27th 2023
---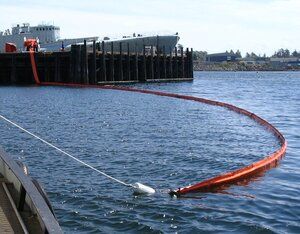 West Coast Spill Supplies offers spill solutions for cleaning up hazardous materials. We are proud to be the first and foremost supplier and distributor of spill response products in BC for over 25 years. At West Coast, we distribute only the highest quality materials for all absorbent products. In this article we take a look at containment booms and absorbent booms.
Not all spill booms are created equal, some are designed to absorb spills, others are intended to solely contain a spill. While they may function differently, their purpose is the same, to effectively and safely contain hazardous spillages.
Which containment boom your operation will opt for will depend on the scope of the project you are undertaking. You need to consider many factors including the kind of oils, chemicals and pollutants that will be used and stored – and potentially spilled – at your site.
It is important to understand the difference between containment and absorbent booms, especially if you manage or own a company that deals with oil, fuels or hazardous chemicals around bodies of water. Let's take a look at how they differ:
Containment Booms
What are they?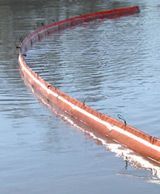 A containment boom is used on water. It's a moat-like structure that floats on the surface to contain the spread of oils and fuels that have been spilled into the marine environment. It is placed around the containment area of a spill or a potential spill so that it will be contained. An example would be if a vessel or ship is leaking oil or diesel, a boom can be deployed to catch and contain the leak.
Are there different types?
There are several kinds of containment booms available, with different types of setups, capacities and uses. Containment booms are usually made from yellow or orange PVC material.
At West Coast Spill Supplies, we offer river and offshore booms as well as general-purpose and permaguard Booms. Our most popular inshore containment boom is an economical fence-type containment solution that can be easily deployed in high spill-risk operations.
If you are looking for more information about the full range of containment booms we offer, please contact us.
Absorbent Booms & Socks
What are they?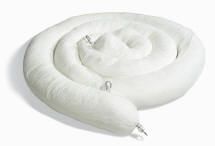 An absorbent boom is a quick and easy method designed for containing and removing small quantities of oil or fuel from an inland or aquatic spill zone. They are manufactured from oleophilic materials which means they will absorb any oil or hydrocarbon that they come into contact with, while repelling water. These booms are ideal for creating a barrier in the event of a spill, for containing an ongoing leak and for controlling the unintentional spread of oil. They float atop water even when completely saturated.
Absorbent booms are designed to soak up hazardous spillages at different sites. Their tube shape and function are similar to the smaller absorbent socks that can be found in most generic land based spill kits.
Grey booms are designed for land spills only and will not float. Their grey colour indicates they can soak up any liquids from oil to water and water-based fluids. Yellow booms are similar to grey booms, but are for absorbing chemical and hazmat spillages.
White spill booms will float on water and are designed to absorb hydrocarbons like gasoline or diesel fuel. White absorbent booms are especially useful for combining with containment booms to contain and remove oil spills from water.
How are they deployed?
Absorbent booms can be deployed in a "U" shaped manner on calm waters like a lake, pond or in a marina. 5" and 8" diameter absorbent booms are the most common sizes, with the 8" mostly used for areas with slightly higher wave activity.
If the spill is still moving, make sure you allow space between the spill and the absorbent boom set-up.
Can different booms be used together?
Yes, they can. In fact, it is better to have multiple types of solutions because it has been shown that no single type of boom (containment or absorbent) will be 100 percent effective in all spill scenarios. Absorbent booms are often used to line the inside of a containment boom.
Contact us today for pricing on containment booms and absorbent booms. We offer very competitive, volume discount pricing.