Sphag Sorb
---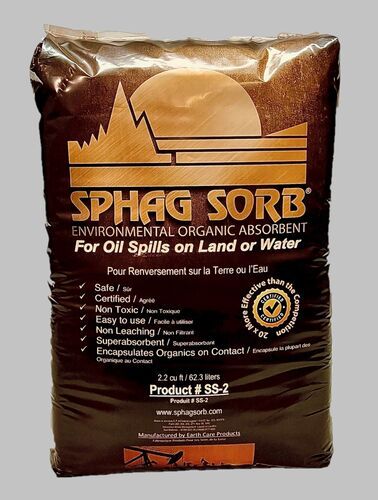 Sphag Sorb is a lightweight, biodegradable, industrial absorbent manufactured from sphagnum peat moss.
Sphag Sorb:
• Absorbs approximately 15 gallons per bag.
• Absorbs hydrocarbons, PCBs, and other chemicals, while repelling water.
• Is fast wicking and non-leaching.
• Is non-toxic and non-abrasive.
• Helps to suppress vapors.

SPHAG SORB is a peat based absorbent organic compound that is used to clean up oil, gas, diesel fuel, solvents, paints, glycol and organic chemical spills.
Product Code # KI-SPHAG (SS-2)
Available in 2.2 cu. ft., loose-filled bags, 60 bags per pallet.
Also available in Microbe Enhanced format (product code # SS-2ME, 30 bags per pallet).
Sphag Sorb is stocked in both our BC and Alberta warehouses. Orders shipped from the Edmonton, AB location must be half or full pallet quantities.
Please contact us for further information and pricing on Sphag Sorb.