Floor Dry Granular Absorbent
---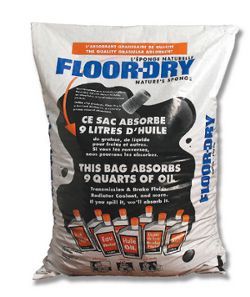 Granular absorbent comprised of 100% Diatomaceous Earth - (Diatomaceous Earth (DE) is the skeletal remains of single-celled aquatic plants).
Absorbs all types of liquids (excluding hydrofluoric acid).
Highest quality absorbent available.
Will not break down or "mud up".
Provides greater absorption for drier / anti slip surfaces.
Fast - put it down, let it absorb, clean it up, for general shop maintenance or emergency spills.
Cost effective - absorbs 2-3 times more liquid versus the same weight of clay based products.
Environmentally safe - nonbiodegradable, and safe for landfill disposal.
All natural - not chemically treated.
Non-WHIMIS regulated.
Packaged in 22.7 Litre Plastic bags, 56 bags per pallet.
Product Code # KI-FD85N
Please contact us for further information and pricing on Floor Dry.