Cell-U-Sorb
---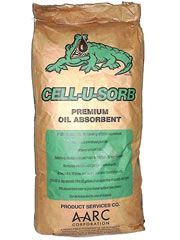 Premium Absorbent for Spills on Water
Cell-U-Sorb is a 100% cellulose absorbent that is biodegradable and manufactured from recycled materials. Cell-U-Sorb is harmless to plants, animals and aquatic life. It will absorb oil from water by selectively absorbing hydrocarbon-based products and continue floating for easy removal. Cell-U-Sorb will absorb trace water to give a cleaner surface (less sheen).
Cell-U-Sorb assists in reducing waste generated by spills. It will absorb up to 20 times its own weight in oil or oil-based products. One 20 lb. bag (9 kg.) absorbs 13 to 25 gallons of oil depending on quality and type. The use of Cell-U-Sorb will realize direct and indirect cost savings in the handling of hazardous waste materials due in part to its high absorption rate and lightweight. Its powerful wicking action helps prevent the spread of hazardous materials. Cell-U-Sorb is similar to but more absorbent than Absorbent W. Certified by the USDA as Biobased products.
Product Code # KI-CELU
Sold in 2.5 cubic foot bags, approximately 9 kgs. (20 lbs.)
Additional Cell-U-Sorb information and application protocol
Please contact us for further information and pricing on Cell-U-Sorb.