Dewatering/Silt Bag
---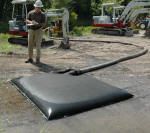 The Dewatering Bag is a geotextile filter bag for removing silt from water.
It is designed to filter water as it is pumped from a storage site, removing hazardous materials such as silt before they can damage the environment. The silt bag is an economical choice for preventing costly clean up of a storm water system. The potential liability from adding silt to an aquatic ecosystem makes the silt bag a valuable environmental protection tool.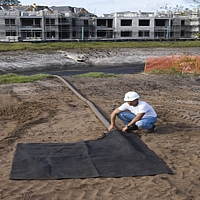 The Silt Bag has a fabric flange that will accept a hose up to 6" in diameter. A ring clamp is included with each bag for quick and easy installation at your site. The Silt Bag is sewn with high strength thread and a " J" seam configuration, providing proven durability and reliability in the field. It is available in any size by custom order, or you may choose our standard 7.5' x 15' bag. Once fully drained, The Silt Bag and it's contents can be disposed of as a solid waste, an economical alternative to waste water or sludge disposal. The contents of the Silt Bag can also be returned to the soil on your site, eliminating waste disposal costs altogether.
The Dewatering/Silt Bag is an effective and aggressive tool in your efforts to meet environmental legislation.
Dewatering / Silt Bag Geotextile Properties
Fabric Style
LP 8
AOS, Sieve (Microns)
80 (180)
Water Flow
90 gpm/ft2
3,665 l/min/m2
Grab Tensile
205 lbs
911 N
Elongation
50 %
Tear
85 lbs
375 N
Puncture
130 lbs
578 N
Please contact us for further information and pricing on Dewatering / Silt Bags.