Insta-Berms
The Insta-Berm Containment Berm, made of industrial-strength fabrics, is a durable and easy-to-use environmental safeguard. Insta-Berm is used in the secondary containment of toxic materials in many applications, to help industries meet today's strict guidelines on environmental protection.

A leaking container is costly in terms of clean-up, environmental damage, and potential fines. Insta-Berm portable secondary containment liners deliver top performance and protection for preventative and emergency spill containment applications. Insta-Berm liners are available in standard or custom sizes.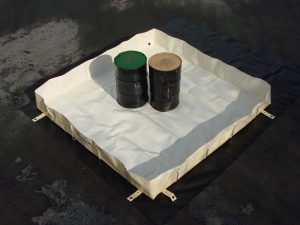 Applications for Outdoor Containment Berms:
Chemical transfer
Tankers and oilers
Vehicle maintenance
Chemical treatment plants
Industrial maintenance
Paint factories
Refineries
Spill containment
Oil spill clean-up
Features
L-shaped aluminum rods hold up walls, yet collapse easily when moving vehicle into the container
Fully collapsible for compact storage and easy transport
Instant deployment without any tools
Can be easily cleaned, disassembled and stored for reuse.
Compatible with RainDrainTM filtration system
L-Rod Secondary Containment Brochure
(includes list of standard sizes)
Please contact us for a quote on Insta Berms.