Frac Tanks (Portable / Collapsible)
---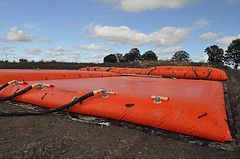 The FRAC Tank is a portable / collapsible pillow-style water tank designed specifically for oil and gas exploration and development. The FRAC Tank is easy to set-up and can be used immediately with almost no site preparation required. The tanks are lightweight, fully collapsible, environmentally-friendly and don't damage the ground beneath them.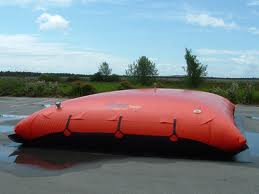 Frac Tank Features:
Convenient: portable, collapsible, lightweight, easy to relocate.
Rapidly deployable: Frac Tank Deployment System (FTDS) can be used to unroll tanks quickly.
Use immediately: almost no site preparation required.
Lower transportation costs: one semi-truck can transport 24 tanks at a time reducing costs dramatically.
Quick set-up: one FRAC Tank can store 50,000 USG (1200 BBLs (US) or 190m3). In a day, using a manifold system, multiple tanks can be set-up to provide whatever volume of storage is required.
Durable: more abrasion and chemically-resistant than other materials, cold-resistant to -50 °C.
Less risk of freeze-up: due to its lower profile, only 5' (1.5 m) high when fully filled, the FRAC Tank offers good heat retention and low wind resistance.
Customizable: available in standard capacities of 50,000 USG (190 m) or custom capacities, as per customer specifications.
Better for the environment: Frac tank bladders ensure complete isolation from surface soil and water, significantly reduce truck traffic to and from the site and increase site safety.
Tank Size
Shipping Size
Weight
33' x 53'
76" x 40" x 48"
1100 lbs. + crate
10m x 16m
1.9m x 1m x 1.2m
499 kg + crate
Custom sizes available.
Please contact us for further information and pricing on Frac Tanks.